On a call last month, the voice on the other end of the phone sounded fraught with anxiety." I don't know what to do, I can't leave my mother in that place," a woman's voice said." All the people are just sitting around in wheelchairs; they all look like they are drugged. My mother told me she doesn't know if she can stand it; there is no one there she can even talk to."
As we talked to her, we had two goals–one was to gather some information about the woman's mother, her needs, and how we could provide the best help. The more important goal was to help the caller with her panic, grief, confusion and guilt.
This daughter's experience as a family member is common. On admission to seniors housing the attention is usually on the person being admitted,often to the exclusion of the needs of the family or caregivers. This month Elder Voice focuses on family members and caregivers in those first few days and weeks after admission to care or seniors housing.
Family members are often so focused on moving their loved one and helping them cope, that they themselves don't even think about how they will react. Similar to the resident, in the first days after admission family members often feel emotionally overwhelmed by grief,guilt, and anxiety. You might feel helpless watching your family member face what is often a fearful or sad experience.You may feel anxious about how it is going to go, and how your loved one will fare: will she get the help she needs? Was this the right thing for him to do? What happens if….? It may feel like you are "turning over" your relative to strangers.The grief may be a profound sadness about the event and it's meaning, which may include aging and death in the future.
For many caregivers emotions are mixed. Along with the grief and fear and letting go you may experience a huge sense of relief that your loved one is being taken care of in a safe situation and that the stress and worry of watching her 24/7 is removed. Some people feel guilty that they feel relief.
Than there is the pressure of the physical move.Preparing a loved one for a move to a seniors residence can cause more stress than if you were moving yourself. Even if someone else is doing the packing and organizing, you are still most likely overseeing or at least participating in the move, and more importantly, co-coordinating and dealing with your loved one who is moving.If they have dementia, this can include having to find a right way for you to tell them they are moving, and then experiencing their reaction, which might be anger, sadness, resistance, confusion and/or fear.It will help you just to be aware in advance that the day of the move may bring with it a culmination of all of this anxiety and exhaustion.
Independent of your loved one, you will also have a reaction to the surroundings. If a place is older and crowded or if the other residents need a high level of care it can be unnerving to have to leave your relative in such a place, and among those people. You may imagine yourself having to live there and think that you could not ever do that.
The most important thing to remember is that these reactions are your first reactions, They can fly at you and feel like a chilly wind in autumn. But as time goes by, your reactions will change. You will begin to see the other people as individuals, and the residence may not seem as drab or depressing as it did at first.
On a practical level, the first days of coping with a seniors residence, especially a nursing home, can be like experiencing an alien culture. There are new systems to get used to, many people with different roles with which you are unfamiliar. There are rules you must learn and a structure you must learn how to interact with. There may be so many forms and contracts to fill in and sign you may feel like you are signing your life away. Most of these focus on agreements for care, for living in the building, and for the provision of services and care. Add this all up, and you will understand why it is as though there is a whole culture to be learned.
Remember too that because your anxiety is high it can make navigating these new experiences more difficult. The rational parts of our brain do not function optimally when we are under stress. Anxiety and the tiring practicalities of the move can make it hard to take in new information, make decisions, and remember. This while you are also trying to keep your focus on how your loved one is doing.
Most residences have some kind of resident handbook which will help you figure out how things work. At the same time, as you get to know the place, you will begin to figure out the unwritten society–to whom to go for help, who does what and when, who is doing a good job. and after a while you will be able to assess what the residence really does, versus what it says it does.
The hardest part of a first day or days may be when it is time for you to go home and leave your relative in the residence. Spend a bit of time thinking about how you will manage that. The staff can help you. It might include having a staff member with your relative or getting them settled at a meal or activity.
As you are coming to understand the systems, staff, and care of the nursing home or residence, the staff is also seeking to understand you and your relative. Even though they may have information about medical issues, medications, and needs and wants, it is different for them when they are face to face with an actual person and family. It will take them a while to learn how to best provide for the care of your relative.You will need patience in the beginning and should be prepared for omissions or mistakes. You may have to give them the same information several times before everyone in the system knows it.
There is not one pattern for adjustment to to living in a nursing home or other seniors residence. For some people it can be quick and seem easy. After just a few days, when we asked how they are enjoying their new homes, many of our clients with dementia have told us that they were quite happy and had lived there for years. This despite their families having been beside themselves with anxiety about how the move would work. Many people who move to independent or assisted living love it and ask themselves why they did not do it sooner.
For other people, however, adjustment can be a longer process taking three to six months or more. As a caregiver or family member,your adjustment will mirror that of your relative. Many family members describe it as a rollercoaster. You will not feel comfortable until you see that your loved one is adjusting . But as the ride goes on, the roller coaster slows down, the bumps become smaller and the ride smooths out.
10 Tips for the First Few Days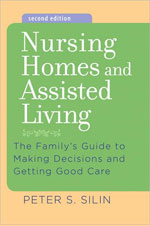 1.Do as much as you can before admission: This might include knowing what clothes and furniture will be moved, looking at papers to be signed, assigning tasks to family members, finding a new doctor, and contacting a mover.Consider what help might be available such as a professional downsizer who can even do a complimentary assessment to help you plan for the practicalities of the move.
2.Have a care plan for yourself for the first few days. Be prepared for the inevitable stress of such a difficult event. Have someone to talk to or somewhere to go to "decompress after."
3.Remind yourself over and over, things will get easier, less confusing and your anxiety will decrease.
4. As issues or questions arise, start two lists. One for questions and concerns that arise about the residence and a second one for concerns that arise regarding your loved one. Then discuss these lists with the residence and follow up in time to ensure all issues have been appropriately addressed.
5. Try to meet with the nurse/nursing director, the head of recreation, and the Social Worker within the first week or two. Let them know the issues of importance as you see them, and talk about how those will be met. There should be a care conference within four weeks of admission.
6. Meet with your other family members on your own to discuss visiting schedules, concerns, and approaches that you want to take with the Residence.
7. Choose one person in the family who will be the primary contact and one who will be the second for the Residence to call when there is an issue. These contacts will be responsible for disseminating information to the rest of the family.
8.Write a social history (kind of like a life story) and medical history to give to the Residence so they have some more background about the person to whom they are providing services or care.
9. Be prepared for how to respond to your relative if she continually talk about going home, not liking it, or being unhappy. Staff should be aware of this and can help you with answers.
10. Read the book Nursing Homes and Assisted Living: The Family's Guide to Making Decisions and Getting Good Care, by Diamond Geriatrics' Peter Silin or a similar book. They will give you information to help you plan and be prepared.